Let's face it, the garage is almost always treated as a storage area for things we do not want in our homes, no matter how small the space is, ceiling garage storage is a good option to help. Instead of being forced to have your garage space turned into a monumentally huge mess, Advanced Door can help. We can find ways for you to organize your garage space such as ceiling garage storage so that you will be able to enjoy your garage again!
Ceiling Garage Storage
Ceiling garage storage systems is an efficient way to store items in your garage without feeling like you have no space. They are convenient, affordable and are available for installation from Advanced Door. We can help get rid of your frustration with the mess of items in the garage and find the right storage system for you and your needs. One such item is the HyLoft ceiling garage storage. This system is most effective in garages but can also be used in attics and basements.
Hyloft Storage System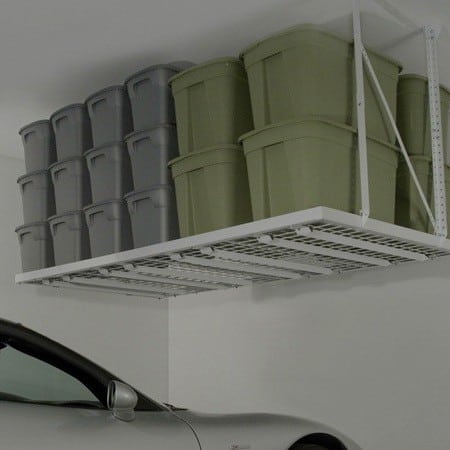 HyLoft ceiling garage storage system products are available from Advanced Door. These ceiling storage systems are ideal for your garage, basement, attic, closet, office, or any other room of your home that is in need of more storage. Our new HyLoft SuperPro measures 96″ x 24″ and is designed specifically for a variety of in-home applications like garage and ceiling storage. With the HyLoft SuperPro, you can easily store large, bulky items or seasonal items that you want close at hand, but out of the way from your everyday activities. The HyLoft SuperPro is adjustable in height from 24″ to 44″. All of the space-saving HyLoft accessories can be used with this item.
In addition to saving space and reducing clutter, the HyLoft ceiling storage system has many other advantages as well. This system can be installed in wood and concrete surfaces making it versatile for all areas and for all kinds of storage. HyLoft comes in many different sizes and colors so it will fit into your garage rather than sticking out and seeming out of place. Storage areas can be a variety of different sizes and being able to install a system that fits perfectly into the area is important in conserving space. 
Advanced Door is a leading provider of the HyLoft storage system. Our experts are efficient and are able to make sure your storage system is ideal for the given space as well as the type of storage. If a ceiling system is installed incorrectly, your vehicles may no longer fit in the garage and there may be less space than there was before the installation. When you use the professionals at Advanced Door you can rest assured that your garage will be more functional than before and will have more storage space. They are also very knowledgeable on the system and the best ways to make sure the storage remains accessible. They are also equipped to install any and all accessories along with the system to make your storage experience easier and more effective.
Maximize Your Limited Space
Garages can be one of the most useful spaces in a home and are a useful way to store items that do not necessarily need to be in the house. Garages can hold outdoor and indoor items and can fill up quickly, especially when all the storage is placed on the floor around the vehicles parked there. Which is why ceiling garage storage is so beneficial. With the ceiling garage storage systems at Advanced Door, we not only have shelves we can install but also numerous accessories to allow more storage options. These accessories include hooks, hanging bars, and more.
Contact Us
Call Advanced Door today for your Ogden garage storage system needs.