Advanced Door is proud to be a part of the Brigham City, Utah community. We uphold the highest standard when it comes to delivering outstanding services and products that guarantee you come back time after time for all your garage door needs!
Whether you need repairs to your current garage door system or a new door installed, our well-trained team is here to ensure that the job will be done right. With decades of expertise and experience in this industry, we promise reliable and fast service each time!
Our knowledgeable team of experts understands the various issues that can arise with garage doors, regardless of material or design. We offer personalized solutions tailored to your individual needs and preferences; from traditional to contemporary, rustic to custom-made works – we have it all!
Advanced Door is your go-to source for comprehensive garage door services in Brigham City.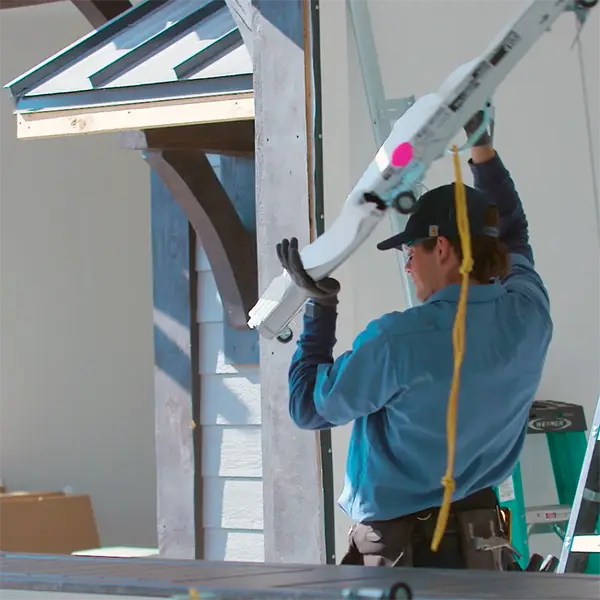 Brigham City Garage Door Installation
Looking to get a new garage door? Our professionals are here to help! We install a variety of doors, including steel, aluminum, wood, glass, and more. With our expertise and dedication to excellence, your new door is only just around the corner.
Brigham City Garage Door Repair
Our talented team of technicians has the expertise to recognize and mend any garage door system. From minor issues with sensors and tracks to problems that are more significant, such as replacing broken panels, we can resolve any issue quickly!
Brigham City Garage Door Openers
If you're looking for an opener to get your garage door running smoothly and reliably, then look no further! Our top-of-the-line openers from industry-leading brands, like Linear and LiftMaster, will operate seamlessly with your existing garage door system.
Brigham City Garage Door Springs
If you're having trouble with your garage door springs, allow our technicians to help. We are experts in both repairs and replacements so you can have peace of mind knowing that the door will open and close as intended every time. Our specialists guarantee it – no more stress!
Choose Advanced Doors, Inc.
Are you looking for reliable door installation and repair services in Brigham City? Look no further than Advanced Door! We guarantee top-notch solutions that meet all of your expectations. Our team of specialists will be thrilled to assist – don't wait any longer and get in touch with us today!
We Service Garage Doors in the Brigham City Area
What Our Customers Say About Us
After having my garage door repainted, new weather stripping needed to be installed. We called and scheduled an appointment within 24 hours... He was very fast and efficient with the install. After doing a full inspection and tune up, he adjusted the door to fit more tightly and replaced some screws and added others so it would operate more smoothly. He was very pleasant and personable and I would give him a 10 for this service call.
I called this company to diagnose my unit and was able to have Royce Beck come out within 40 minutes of calling... Awesome experience I'm really happy my house (recently purchased) had this company install the unit as I was told they do free yearly check ins to make sure it's running properly... Would 100% recommend their installation and definitely their service as Royce had an awesome personality and again was very helpful.
Advance door came out to my home as my garage door was not working. They got out quickly and gave me reasonable options. We ended up getting new springs, Cables, rollers, and a new garage door motor. Garage door is working great and very quiet. May have paid a little extra but have a lifetime warranty on the work, all in all good service.
Ethan Gomm did an excellent job repairing my garage door. He was friendly, fast, and inspected my garage doors for other safety issues as part of his service inspection. He also gave excellent suggestions on how to extend the life of my current garage doors. Thank you for great service!
Garage door was broken and I called Advanced Door for repair. Royce came out the same day and completed the repair. He also completed two additional items to reinforce the garage door to prevent the wind from pushing it in. Door continues to work great with no issues. I recommend them for any garage door repair. Kudos to Royce.
An awesome company with fantastic customer service. They installed our garage doors when we built our home, and have done all of our service work since. Royce is excellent, a master of his trade, and absolutely professional. I can highly recommend them for installation and service work.
We had our original garage doors installed in our new home 15 years ago and need a replacement door. They were very honest and thorough giving us the quote. The door was installed very professionally and it matches exactly to the existing door! Very pleased with the service and product!
Get a Free Estimate Today