Your garage door takes up to 30% of your home's exterior, so it's important that you select the type of garage door that complements its architectural style and serves its purpose. There are many different considerations when choosing a garage door, from the material to the color to the design and more. Here, we will go over these factors so that you can select a garage door that enhances your home's curb appeal and that you can enjoy for years to come.
Factor In The Purpose Of Your Garage
While several different designs can work well with your home's style, you want to identify what you're using your garage for first. For instance, while glass garage doors can be stunning on contemporary homes, if you use your garage as a storage space, you probably don't want passersby being able to see into your garage. You would likely want to opt for a type of garage door that provides more privacy and security.
Thus, in order to choose the right type of garage door for your home, you want to keep its purpose in mind. If you store items in your garage but your heart is set on a glass garage door, you could likely opt for frosted glass options that make it more difficult to see through.
Consider The Weather Where You Live
You also want to consider what the weather is like where you live when choosing the right type of garage door for you. As an example, wood garage doors are timeless and stately, but they require extensive maintenance and are more prone to damage from wear and tear than other types of garage doors. As such, if you live somewhere with inclement weather, you'll have to consider whether or not you're willing to put in the work to maintain a wood garage door.
Another type of material may be better for you if you like something that is lower maintenance, such as fiberglass. This allows you to enjoy the look of a wooden garage door without the maintenance that comes with it.
Another factor to consider in regards to the weather is the insulation of the door. If you live somewhere that experiences temperature extremes, you likely will want a type of garage door with good insulation, so that you can enjoy a more comfortable garage in the heat of summer or in the dead of winter.
What Is Your Home's Architectural Style?
Some people may decide to be bold and different and choose a type of garage door that one typically wouldn't see on their type of home. If you want to make a statement, opting for a contemporary-style garage door on a Colonial home would certainly set you apart. However, you may prefer to have a type of garage door that looks cohesive with your home's architectural style.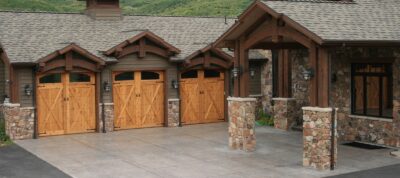 If you have an older style of home, such as the aforementioned Colonial, carriagehouse-style garage doors complement them very well. Carriage house garage doors also look good with farmhouses and other, more historic styles.
If you have a more modern style home, you may opt for glass garage doors or something more simplistic.
You can also customize your garage door to look just the way you want it to. If you're ever unsure of what type of garage door would look best with your home's architectural style, you can also consult with a garage door expert, such as the team here at Advanced Door. They will be able to provide you with options and offer advice so that you can have a garage door that you feel confident in.
Color It In
White garage doors are by far the most common color you see, but that doesn't mean that you need to have a white garage door if you would prefer something else. It's generally best to match the color of your garage door to aspects of the rest of your home. For instance, if you have blue shutters, a blue garage door could tie into them well. You could also decide to paint your garage door the same color as your home's primary color, to give the impression of a bigger house.
Unless you are trying to make a statement, you generally want your garage door to blend well with the rest of your home, so consider matching the color to your siding, your trim, or your shutters.
Do You Need A New Garage Door?
Advanced Door provides professional garage door services to meet your needs. We can advise you on the options available to you, and can also provide you with custom garage doors. Contact us today to learn more about our garage door services in Northern Utah.